Telehealth: Acupressure and AcupPoint Stimulation
 E consults are now available to provide acupressure workshops, antenatal and postpartum care.    

Twenty-five years ago I began promoting the use of acupressure to provide pain relief during labour.1 Today these techniques are widely used, with an evidence base reporting beneficial effects that include reducing caesarean sections. 2,3   
With Telehealth these workshops can be offered from the comfort of your home and anywhere with internet access! 
Acupressure for Labour Preparation: Techniques that can be used from 36 weeks to encourage cervical ripening, optimal fetal positioning and promote the beneficial hormonal responses so important in those last few weeks of pregnancy. This workshop also covers techniques that can be used if your waters break, you are seeking a vaginal birth after a caesarean section or you require a medical induction.
Acupressure for Pain relief in Labour: Acupressure points to use in early labour to provide pain relief. This workshop also covers techniques midwives have found useful for posterior positions, cervical lip, failure to progress and to encourage breastfeeding thorough reducing 'after pains' and encouraging breast milk let down.
Cost:  NZ $20.  Workshops are run to accommodate different time zones with limited numbers to ensure an optimal online experience. 
To register your interest please e-mail  Debra  with the workshop you are interested in, the number of support people attending and if not in New Zealand, your time zone.
You questions or comments are also welcome on this Face Book Page
AcuPoint Stimulation Techniques 
Needles are not the only way to stimulate acupuncture points! Learn ho wto use acupressure, massage techniques (gua sha), silicon cups, moxa and press needles to address many of the common the physical complaints of pregnancy such as:
Nausea
Lower back pain and pelvic pain 
Headaches
Heart burn
Insomnia
Constipation
Haemorrhoids and varicosities.
Additionally, these techniques can assist with emotional and stress issues through promoting parasympathetic 'rest and digest' responses, optimising general health and promoting beneficial pregnancy hormones. 
These techniques have also been reported by midwives here in New Zealand as useful for labour preparation from 36 weeks: assisting with cervical ripening, optimal fetal positioning, emotional calming and subsequently increasing natural vaginal birth rates within their practice.3 
These AcupPoint prescriptions are tailored to an acupuncture diagnosis with a prescribed dosage depending on individualised situations. Further details about these Telehealth consults can be found below.
Acupressure resources
The Acupressure resources on this webpage have been updated. You will now find videos to assist you locate each point and illustrated handouts. This includes handouts to explain using acupressure for pain relief in labour,  labour preparation, when a medical induction is required and suggestions for self-stimulating the acupressure points if you do not have your support people with you as planned.
These resources are all under the 'Acupressure' section on the black bar at the top of this page.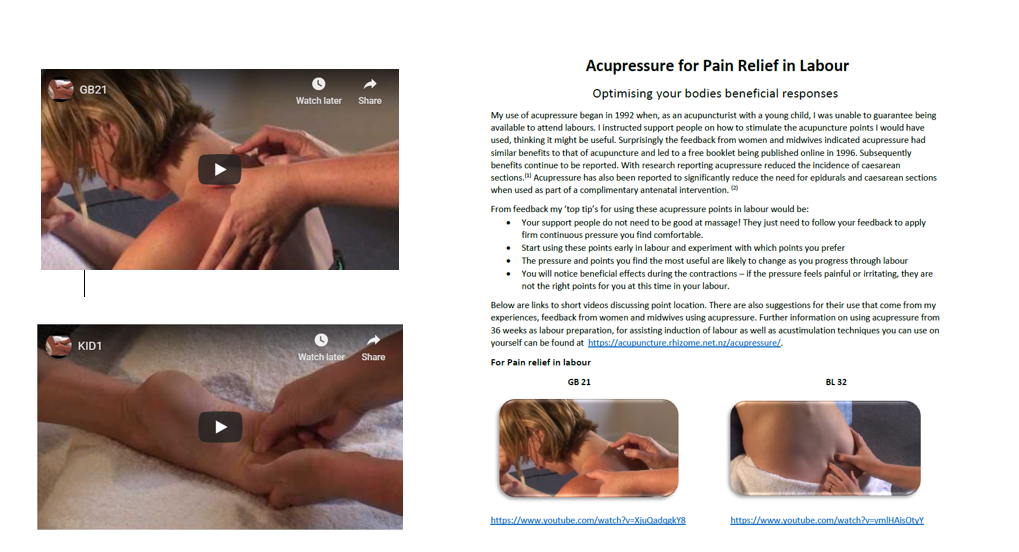 The acupressure points in these handouts were taught as part of an educational intervention programme. Follow up reported women using natural interventions reduced their epidural rate (24% versus 69 % in the usual care group) and halved their caesarean section rate. This was statically significant, which means it unlikely to be due to chance finding.  For more information on this study, that also included visualisation and relaxation, breathing, massage, yoga techniques please click on this Link 
The full version of the orginal booklet and translations in Danish, Dutch, Hebrew, Italian, Norwegian, German, French, Spanish, Polish and Portuguses can be downloaded here : 
   Telehealth Consults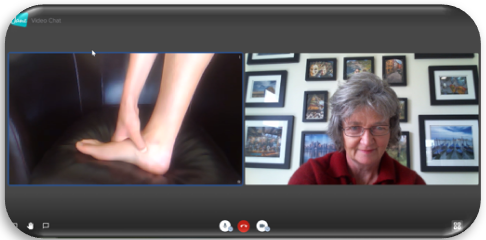 AcuPoint Stimulation during Pregnancy, Labour and Postpartum
This consult uses a secure Telehealth platform. Your consult will explore what would be the most relevant for you and demonstrate how you can use various techniques which may consist of acupressure, as well as stimulating points with silicon cups, small press needles on a plaster or moxibustion. 
On making an appointment you will be asked to complete an intake form so we can make the most of our time when we meet online. A summary sheet detailing your acupressure points and assimilation techniques discussed will also be sent to you following the consult.
​For those in New Zealand a Postnatal recovery pack with silicon cups, moxibustion and press needles will also be posted out to you on making an appointment.
Cost: Initial consult $70, subsequent consults $35 
Pregnancy and postpartum care package: 2 pregnancy with postpartum consult $100
For May: Initial consults $35, follow up consults $20  Pregnancy and postpartum care package: $50
                                             Or you are welcome to to email  Debra
You questions or comments on using this Telehealth care are welcome on this Face Book Page
The times in this booking system are for New Zealand- if you are overseas, just click  World Clock Meeting Planner to enter a date, your location and use Wellington New Zeland to view a  list of comparable times that would suit you. 
One to one consults for Acupuncturists wanting to discuss cases from the clinic are also available. Just make a booking as below and - you will receive a form to complete before we meet, ensuring we make the most of our online time! 
Please note: This booking system asks for Visa or Master card details that are then activated (with a receipt), following your consult. If you wish to use internet banking please e-mail me and I will make your appointment and issue your receipt manually.
Disclaimer: The information on this site is provided with the intention that it can be used as a resource to offer women choices about the use of acupressure and acupuncture throughout pregnancy, childbirth and postpartum recovery. It is intended that this information is used in conjunction with western medical care and not as a substitute for medical advice.
                                      
                                                              Dr Debra Betts (PhD) LAc
References
1 Betts D. (2006). The Essential Guide to Acupuncture in Pregnancy & Childbirth. Hove, UK: The Journal of Chinese Medicine Publications.
2 Levett, Kate M., Smith, C.A., Bensoussan, A. & Dahlen, H.G. (2016). Complementary therapies for labour and birth study: a randomised controlled trial of antenatal integrative medicine for pain management in labour. BMJ Open, 2016 Jul 12;6(7):e010691. DOI: 10.1136/bmjopen-2015-010691.
3.Smith CA, Collins CT, Levett KM, Armour M, Dahlen HG, Tan  AL, Mesgarpour B. (2020) Acupuncture or acupressure for pain management during labour. Cochrane Database of Systematic Reviews 2020, Issue 2. Art. No.: CD009232. DOI: 10.1002/14651858.CD009232.pub2