Acupressure for Pain Relief in Labour, Labour Preparation and when a Medical Induction is required
Research reports acupressure as beneficial in labour and reduces caesarean sections. It has also been reported to reduce the need for epidurals and caesarean sections when used as part of an antenatal intervention.(1,2) 
 'Top Tips' from promoting acupressure use in pregnancy over the past 25 years:
Your support people do not need to be good at massage! They just need to follow your feedback
Start early in labour and experiment to find the points you prefer
The points you find useful are likely to change as you progress through labour
If the pressure feels painful or irritating, they are not the right for you at this time.
The videos below demonstrate the point location while the PDF's under these videos explain how to use these points. There are handouts for birth preparation and when labour is going be induced, use during labour for pain relief and information on stimulating these points for yourself. This self-stimulation may be especially relevant in this time of Covid 19 if you have limited access to your support people.
PDF's you can download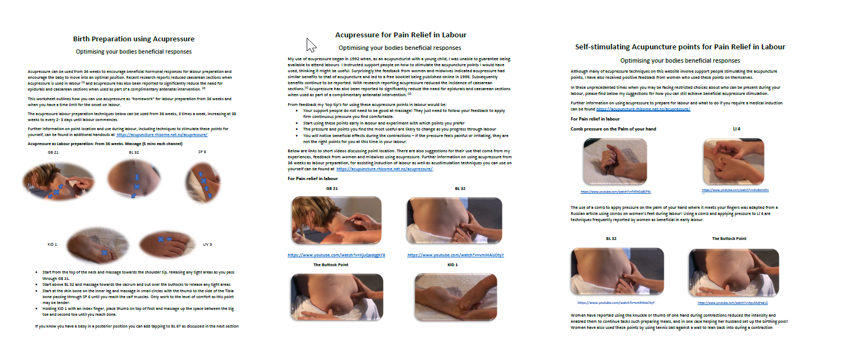 Acupressure for Pain relief in Labour Handout .pdf (562.4 KB)

Acupressure for Labour Preperation and Medical Induction.pdf (406.0 KB)

Using Acupresuure on yourself for Pain relief in Labour Handout .pdf (456.4 KB)
Information on AcuPoint Stimulation in pregnancy and postpartum
Link to original Acupressure PDF and translations 
Link to Evidence Based Birth Website: Free anenatal classes - Birthing in the time of Covid 19
Free access to a birthing video from Kathy Frays MotherWise resources
References
1 Smith CA, Collins CT, Levett KM, Armour M, Dahlen HG, Tan  AL, Mesgarpour B. (2020) Acupuncture or acupressure for pain management during labour. Cochrane Database of Systematic Reviews 2020, Issue 2. Art. No.: CD009232. DOI: 10.1002/14651858.CD009232.pub2
2 Levett, Kate M., Smith, C.A., Bensoussan, A. & Dahlen, H.G. (2016). Complementary therapies for labour and birth study: a randomised controlled trial of antenatal integrative medicine for pain management in labour. BMJ Open, 2016 Jul 12;6(7):e010691. DOI: 10.1136/bmjopen-2015-010691.